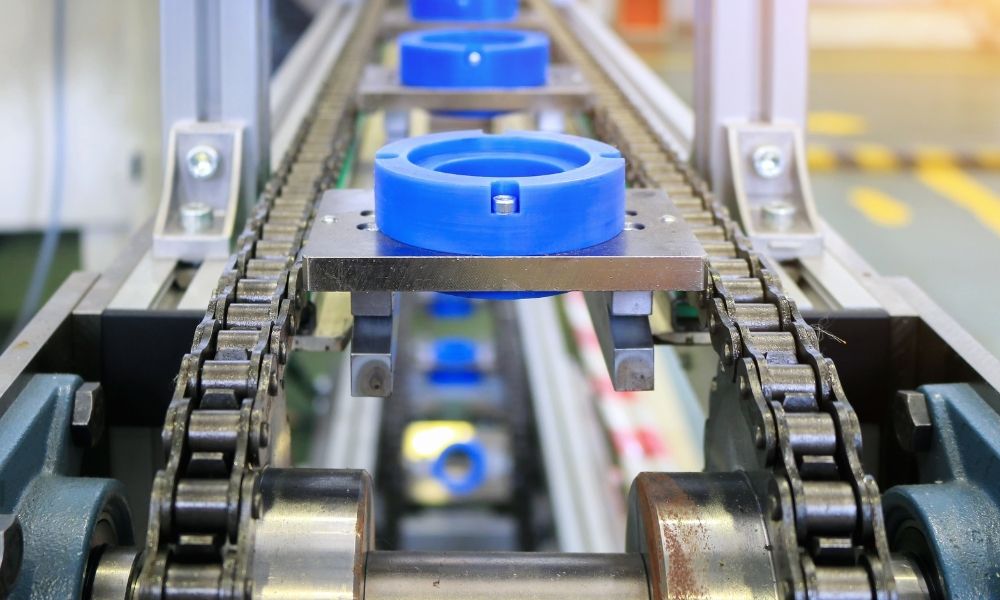 There aren't any particular features that make conveyors that use belts versus chains better than the other. Rather, they each offer unique advantages and disadvantages that complement one another. So, it's essential that you understand the difference between conveyor belts and chain conveyors to find the type that your business needs.
Conveyor Belts
Belt conveyors are systems with two or more pulleys that constantly rotate an endless line belt. The belt is typically made of durable plastic rubber or PVC this is also very flexible. A conveyor belt looks and operates similarly to a treadmill. However, rather than being about five feet long, conveyor belts can stretch as long as the facility needs them to be.
Advantages
Conveyor belts are preferred because of their cost-effectiveness. Besides the obvious financial gains they provide by increasing production speed, belt systems are cost-effective even when compared to other conveyors because of the PVC's competitive pricing.
They also have production advantages. Rubber belt systems have comparatively soft tops, making them great for producing products that require gentile care. Also, the continuous belt means is easy to clean, which is why belt systems are often used in the manicuring and packing of food products.
Disadvantages
One of the main drawbacks of using a belt system is that the same surface that makes it great for handling gentle objects isn't as effective when transporting heavier, more abrasive material. While it might work at first, over time the rubber will typically get damaged sooner than it usually would when moving appropriate material.
Chain Conveyors
Chain conveyors are systems made of a series of small parts that connect together to make the track that the merchandise moves along. While metal is the most common material used, chain conveyors can be made from various materials that are all designed to withstand the daily stress of carrying heavy loads.
Advantages
Chain conveyors are more durable than belts, making them the preferred choice for heavier loads. However, they have a high chance of causing damage. Also, since chain conveyors are made from a series of interlocking chains, they're easier to fix than their counterpart. This is because everything is designed in one piece.
However, if part of the belt gets damaged, the whole thing is damaged. On the other hand, if a link on a chain gets damaged, it can easily be fixed since it's just one small part of a larger system, making dismantling the entire thing unnecessary.
Disadvantages
Chain conveyors aren't used in food production because they can get dirty quickly. They have many small cracks and crevices that dirt and grime can get into. The chains also can cause problems for more fragile loads that need the gentle touch of a PVC belt.
Hopefully, after checking the difference between conveyor belts and chain conveyors, you can order the one that will be the perfect addition to your manufacturing facility's production practices. Reach out to our team at Redline Systems for more information about the specific models of portable incline conveyors we offer and their recommended uses.