The SD-Series trough belt conveyor is the real power-player of material handling conveyors. The design of the SD-Series makes it a master mover of all kinds of material for all types of applications. The bed is constructed in 16-, 20-, or 24-inch-wide span in a 15-degree trough configuration. Support for the machine is provided by a center roller system. This trough conveyor belt provides better control over loose materials, keeping them centered on the belt.
The belting is a tough, rubber belt with 1-1/2-inch-tall chevron style cleats. The cleats are spaced out into 12-inch centers to provide a superior grip on the material. With the combined trough configuration and chevron style belt design, you will find that you will be able to move material up steeper inclines with the cleated conveyor.
The frame is constructed of strong steel tubing. The pre-lubricated, sealed, self-aligning bearings help keep your belt tracking properly. The drive pulley is a 7-inch diameter, open cage pulley that is self-cleaning. Likewise, the chevron conveyor belt's 6-inch diameter tail pulley (driven pulley) is also open caged for self-cleaning convenience. This chevron cleated conveyor belt is designed to keep your running time up and your downtime to a minimum.
Belt Widths:  16in,  20in and 24in  (other widths available upon request)

Electric, Hydraulic, Gas, or Diesel Power

Aggressive Steep Climb Belt for Incline conveyance.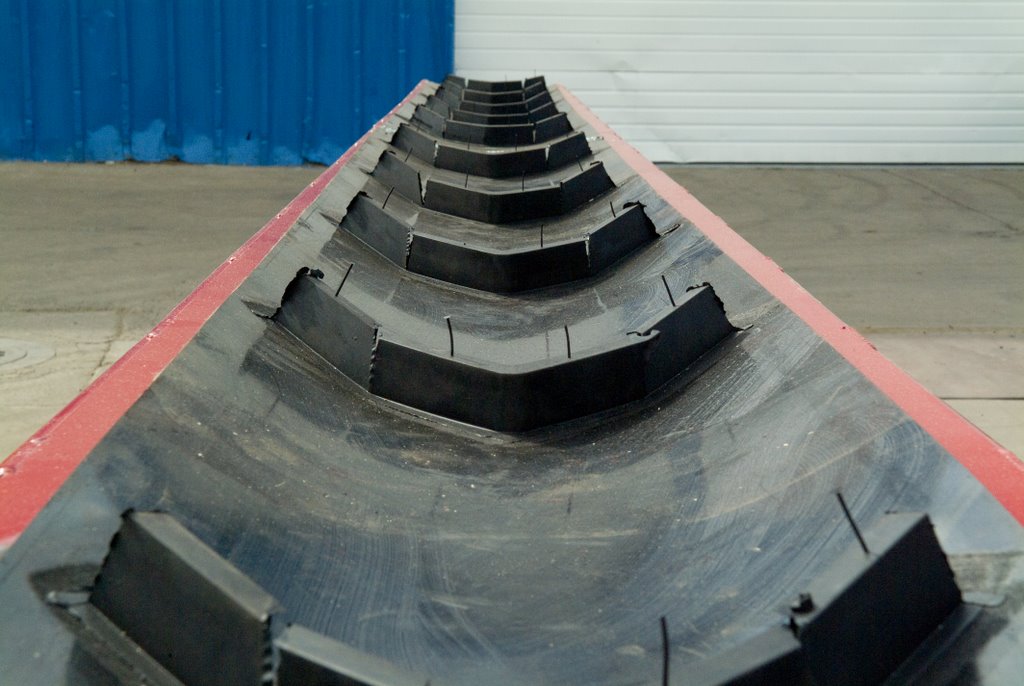 SD-Series Conveyor Features
Bed– 16″ 20″, or 24″ wide troughed bed.
Frame: Strong, Rugged Truss style welded frame.
Belt:  Heavy duty 2 ply, 1-1/4″ tall chevron cleated.  Steep climb Belt
Drive: Electric, gas, or hydraulic motor available.
Bearings– Sealed, pre-lubricated, self-aligning, ball bearings.
Drive pulley– 7″ in diameter. Open caged for self-cleaning.
Tail Pulley– 6″ in diameter. Open caged for self-cleaning.
SD-Series Models
| CONVEYOR MODEL | OVERALL LENTH | CENTER PULLEY DISTANCE | WEIGHT (LBS.) |
| --- | --- | --- | --- |
| SD-3-16 | 16 feet | 14′-8″ | 375 |
| SD-3-21 | 21 feet | 19′-8″ | 430 |
| SD-2-26 | 26 feet | 24′-8″ | 475 |
| SD-2-31 | 31 feet | 29′-8″ | 715 |
| SD-2-42 | 42 feet | 39′-8″ | 875 |
| SD-2-52 | 52 feet | 51′-8″ | 1,100 |
For more information about our Belt Conveyors, contact our team today.
Request Information | Quote